SOUVENIRS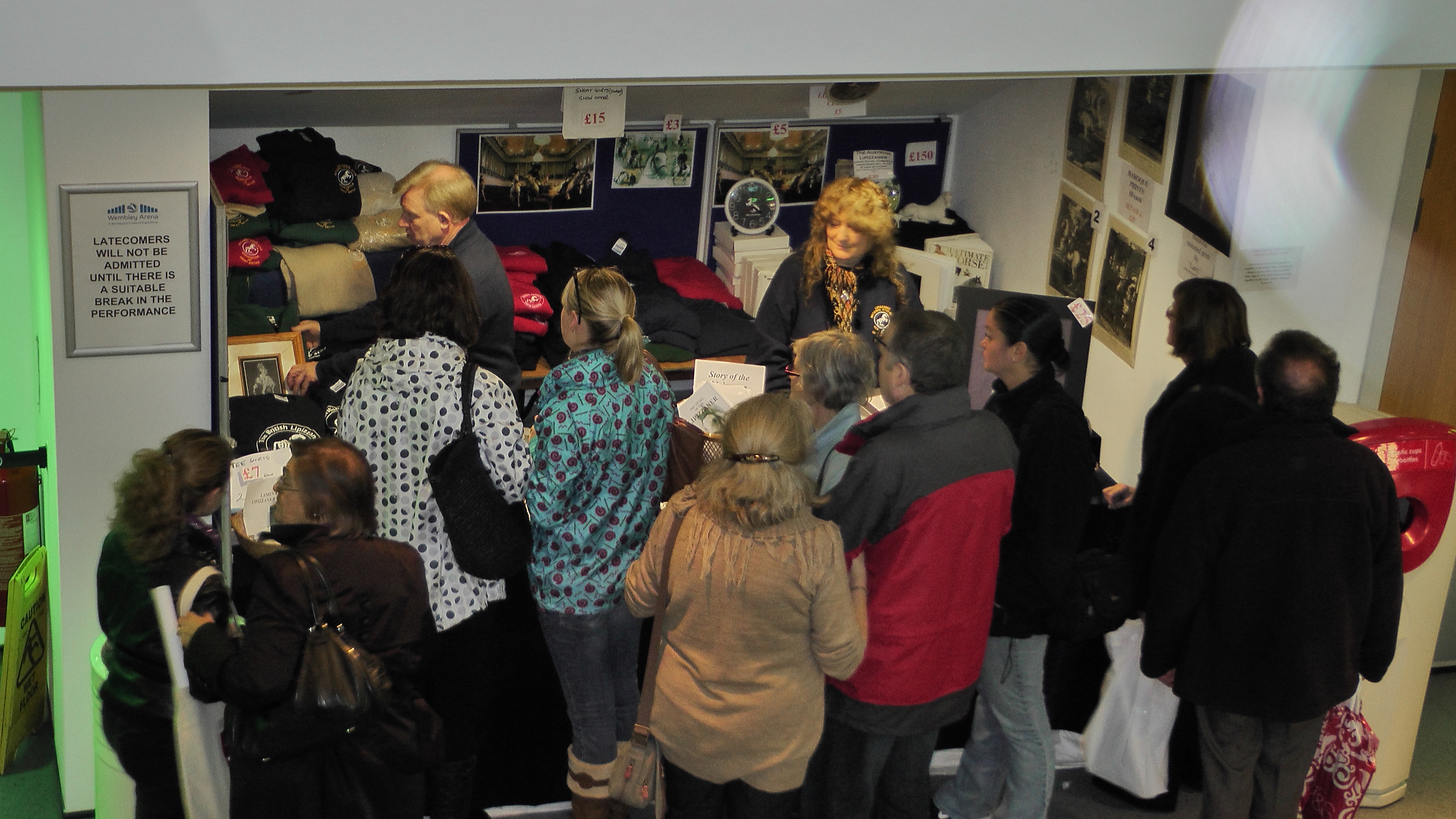 scroll down to see some great gifts & special SRS visit offers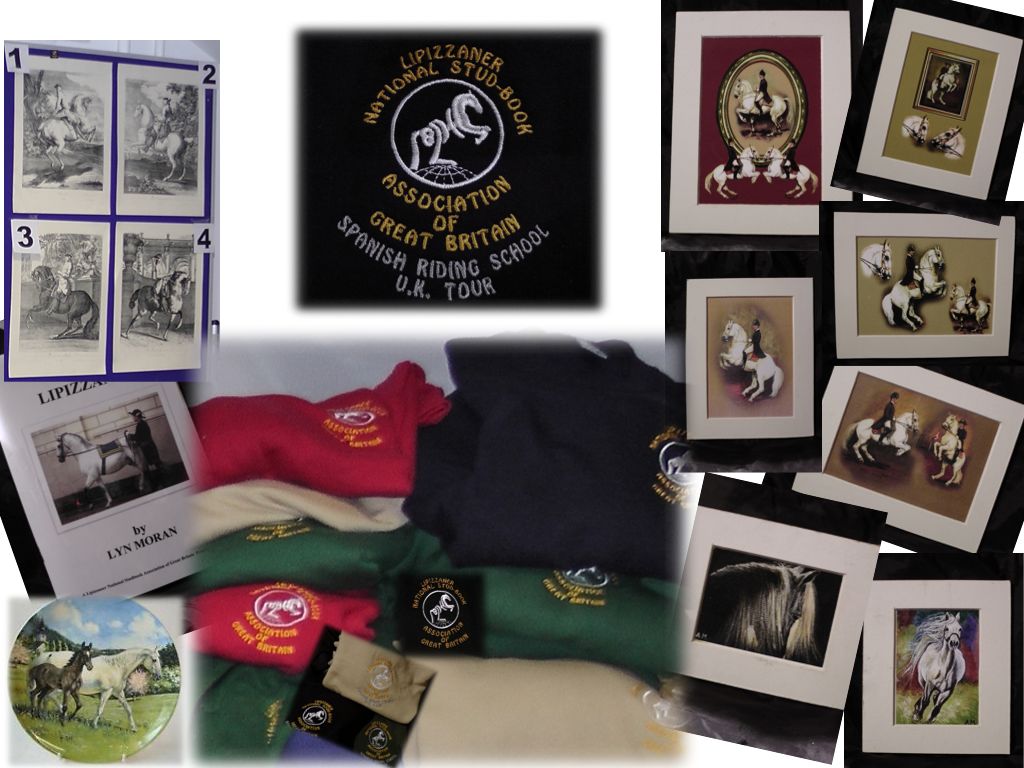 THESE ARE SOME OF THE GREAT SOUVENIRS WE HAVE ON OFFER DURING THE VISIT OF THE SPANISH RIDING SCHOOL. WE HAVE A LIMITED SUPPLY OF SOUVENIR SPANISH RIDING SCHOOL VISIT EMBROIDERED SWEAT SHIRTS AT £25 EACH. LIPIZZANER SOUVENIR EMBROIDERED SWEATSHIRTS ARE £18 & LIPIZZANER PRINTED SOUVENIR SWEATSHIRTS ARE £10 (two for £15)
Top left are the ever popular BAROQUE PRINTS printed on parchment type paper £5 each or £15 for a set of 4 A4 size or £6 each - £18 for a set of 4 A3 size.
Below the prints is the comprehensive Story of the Lipizzaner booklet by expert Lyn Moran £3.75
Below the plate is the Suzie Whitcome painting of a Lipizzaner mare and foal. Suzie Whitcombe visited the Ausdan Stud to study the Lipizzaner hers and chose Nobila, a rather beautiful mare as her model. Plate is £15
On the right is a selection of absolutely beautiful Lipizzaner prints by world famous artist Elizabeth Ansell. The prints are mounted with backing card. £6 each.
Below the prints are two fantasy mini prints, mounted, boarded ready to frame. £5 each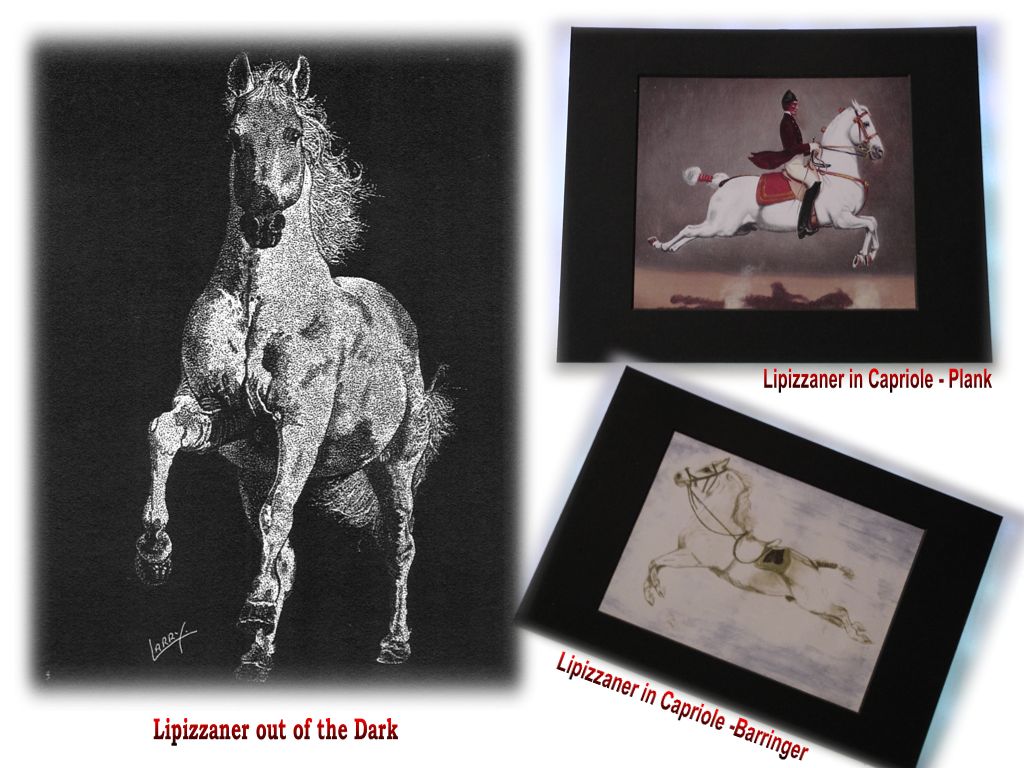 Lipizzaner out of the dark is absolutely stunning. It would grace any home and appears to look straight at you from whatever angle you are at. It is a large print and comes ready mounted & boarded with black mount similar to paintings on the right. £25
Spanish Riding School Lipizzaner in Capriole is by the Austrian artist J Plank. It is a beautifully presented print and catches the movement and grace of the horse & rider perfectly. It is ready mounted and boarded. £15
Belo -Lipizzaner in Capriole by UK artist J Barringer. The horse appears to shimmer in the light. £5
SCROLL DOWN FOR PAYMENT OPTIONS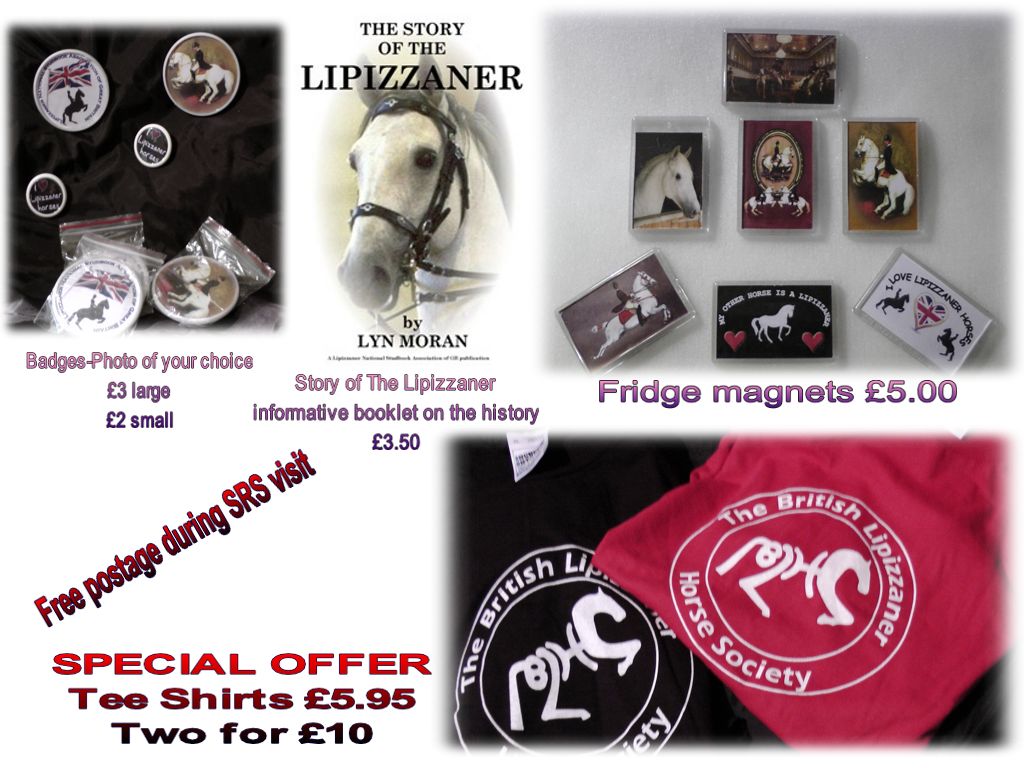 More great items from the LNSA of GB. Take a look at our Tee Shirt Special Offer. Only £5.95 each and TWO for £10. The Story of the Lipizzaner is one of the most popular of the smaller items we have ever had. The fridge magnets are a close 2nd.
YOU CAN PAY BY CHEQUE, DD OR PAYPAY (paypal carries an addition fee of 66p for items under £5 and £1 for items £6 and over)
PAYPAL - log into your account and pay cilyblaidd@btinternet.com Please ensure you state your name. address and item purchased.
CHEQUES , CASH to LNSA of GB, Cilyblaidd Manor, Pencarreg, Nr Lampeter, Carmarthenshire, SA409QL (if cash please send by recorded delivery as we cannot accept responsibility for non receipt).
DD option please email info@lipizzanerhorse.com for bank details